THE CO.STARTERS PROGRAM APPLICATION & MANAGER
At CO.STARTERS, we understand the importance of tracking measurable outcomes to gauge success. For this reason, we have an impact measurement system that collects data on each cohort and will provide you with reports on how your cohorts perform, as well as your organization and the CO.STARTERS community as a whole.
The CO.STARTERS Program Application is the first step in our impact measurement system. This application will allow you to collect baseline information from prospective participants, determine who will go into your next cohort, and set the stage for future surveys.
What the Application Covers
The Program Application asks for several types of information.
Contact information (name, zip, email, phone)
Demographic information (sex, race, age, education, employment, income)
Venture information (venture type, name, description, stage)
Commitment (fees, availability)
Expectations
Liability waiver
While there is a lot of information we could collect at this phase, our intent is to get the bare minimum needed to make a decision to add someone to a cohort. More detailed information is collected through the Pre-Program Survey after an applicant is accepted into the program.
Making Your Application Accessible through Your Landing Page
You will find your organization's unique links on Tab #2 of your Program Manager (see below). The link labeled "Participant Application" is the url you need to hyperlink to on your website either using a button or text that says "APPLY HERE."
Even though you may only run programs several times throughout the year, we encourage you to leave the application up at all times to collect information from prospective participants and email them when they apply with the date of the upcoming cohort.
Go here for more information on setting up your organization's landing page.
Reviewing Applications
Each time an applicant completes your application, their information will be recorded into your unique Program Manager. This Google Sheet will be shared with you via an email titled "Access to CO.STARTERS Member Site & Program Manager" from our staff. We encourage you to bookmark it in your browser for ease of finding.
At least a week prior to your cohort start date, email [email protected] a list of full name and email addresses of accepted applicants. Remember, the best group size is 10-15 participants. Also, tell us who from your list of Certified Facilitators (found on tab #3 of your Program Manager) will be facilitating the cohort. Once a cohort is established, we will automatically send out the pre and post-program surveys. You'll need to send out the weekly surveys in the weekly emails.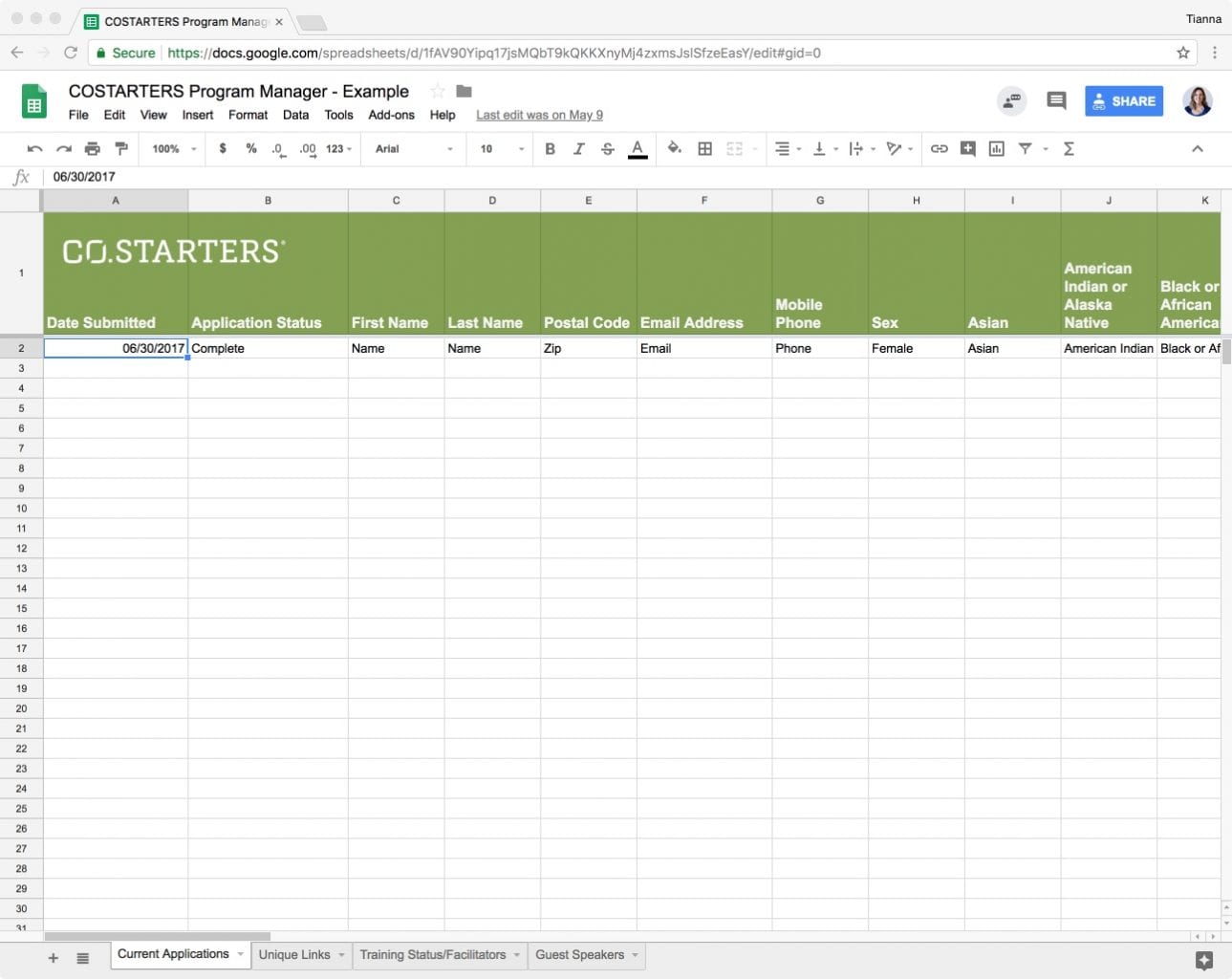 Using Your CO.STARTERS Program Manager
Your Program Manager contains several things:
Tab 1: Current Applications
The first tab of your Program Manager contains any applications you've received since your last cohort. To receive notifications when someone submits a new application, go to Tools > Notification Rules.
Tab 2: Unique Links
The second tab contains your organization's unique links to your application and session surveys.
Tab 3: Training Status & Facilitators
The third tab contains information on those who participated in your community training, as well as their status. Only those labeled "Certified Facilitator" should facilitate a cohort on their own. Those designated "co-Facilitator" are eligible to co-facilitate alongside a certified facilitator or with another co-Facilitator. Other trainees should be plugged into other roles such as guest speaker or mentor.
Tab 4: Guest Speakers
Guest speakers are brought in during Weeks 2-8. Tab #4 outlines topics as well as a place to store information on speakers who fit that description.
Tab 5+: Archived Cohorts
Once you let the CO.STARTERS team know which applicants will be in a cohort, their application information gets archived onto a cohort-specific tab, designated by the name of your organization and the six digit start date of the cohort.